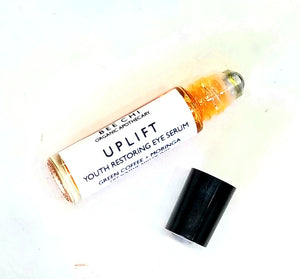 Uplift Youth Restoring Eye Serum
Regular price $30.00 Sale
Revered by so many, especially new mamas and night time nurses here in Hawaii, this one finally had to go on our website!! Packed with skin loving antioxidants and firming coffee bean oil, Uplift is the perfect potion for our delicate eye area.
Whether treating dark circles, puffiness, or just wanting to soothe + smooth the skin around our eyes, this little serum does it all, restoring while being gentle and (of course) smelling delicious!
A few key ingredients:
Coffee Bean oil ~ According to several studies, coffee bean oil promotes the production of collagen and elastin, increasing the flexibility and firmness of the skin. The topical application of coffee extract has been shown to increase glycosaminoglycans and aquaglyceroporins-3 (AQP-3), two proteins that are responsible for improved skin hydration and decreased loss of moisture. It's also known as anti-inflammatory and contains enzymes that stimulate detoxification, making it ideal to treat inflamed acne or problematic skin.
Moringa seed oil ~ Being both vitamin-rich and nutrient-dense, moringa oil makes for an excellent active ingredient thanks to its antioxidants, antibacterial, and nourishing properties. The natural vitamin C in moringa oil boosts collagen, helping reduce fine lines, wrinkles and sagging skin.
Sea Buckthorn seed oil ~ High in anti-inflammatory properties that help reduce swelling and redness associated with many skin conditions, including eczema, psoriasis and rosacea, sea buckthorn oil is also a renowned anti-aging skin ingredient. Renowned for its healing benefits, skin hydration, and production of more collagen, this oil also helps to plump the skin, and smooth fine lines and wrinkles over time. 
To enjoy ~ Massage well into skin around eye area or anywhere you'd like a little lift or plumping. Use the roller as a massage treatment itself to assist in softening deep lines, depuffing, and as a soothing ritual. 
Ingredients: *Jojoba oil, *Castor bean seed oil, *Moringa seed oil, Coffee bean seed oil, **Sea buckthorn seed oil, *Carrot seed oil, Essential oils (in trace amounts): *Bergamot (non photosensitive extract), *Ho wood, Frankincense, *Geranium, Copal
*Organic ingredient  **Eco certified